Order delicious sweets and get delicious birthday cake delivery in Noida by Dees Bake. The creamy, sweet craving can show up at the doorstep of your taste at no time! Think Cakes & Dees Bake Studio will answer your online Birthday Cakes delivery in Noida. Dees Bake Studio is an FSSAI certified bakery in Noida which proclaims purity, precision, and efficiency in baking and delivering mouth-watering cakes. Top ingredients are used, and expert bakers show their hands-on dexterity, the entire process results in a combination of a technologically advanced and deeply managed delivery system and the dedication of our partners to their work. Dees Bake delivers delicious cakes to every corner in Noida as we love to serve as many as we can. Get your favorite online cake order in Noida and make your occasion more attractive.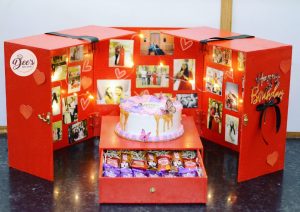 Online Cake Delivery in Noida with Fast Shipping – Dees Bake
Making delicious and creamy fluffy cakes is the demand of every special occasion. Whether it's a classic flavor or a fresh new addition, you're sure to find something delicious! All our cakes are crafted using the best quality ingredients to maintain exquisite taste and richness without compromising on quality. So, whether it is a birthday cake, anniversary cake, valentine cake, or Mother's Day cake, we have everything you are looking for including delicious birthday cake delivery in Noida. The vast assortment of cakes offers you great options to choose the best cake for your loved ones. Celebrate mesmerizing occasions and events like Christmas and New Year with a delightful cake. At Dees Bake, we provide you with a variety of delicious birthday cake delivery in Noida to not only make your celebrations special and grand but also give you a wonderful delivery. With the help of our online cake order in Noida, you can now send cakes to your loved ones from anywhere in India.
Time to add more colors to your celebration with delectable designer cakes from Dees Bake
Cake and celebration go hand in hand. Well, everyone would agree to this. Not only birthdays but many more occasions like anniversaries, farewells, victory moments and an endless list of occasions are made fun and majestic with just cakes. Do you know why? The cakes have a downright charm that you can't help but fall in love with every time you see them.
From the creamy layers to the design, everything in the cake is a treat for the eyes and soul.
Lately, designer cakes have captured the hearts of everyone including us. Amazed by its charm, Dees Bake brings to you a wide range of online designer cakes that are highly exceptional in their appeal and taste. Baked to the utmost perfection, creativity, and freshness guaranteed, our delicious cakes are sure to add wonders to any celebration. Within Designer Cakes, theme-based cakes are our pride and joy. To make your theme parties stand out, we offer a fascinating range of designer theme cakes such as Princess.