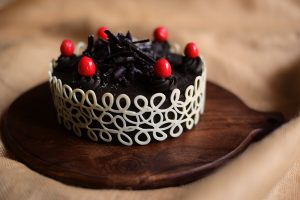 It's true that a picture paints a thousand words. Just looking at it can make anyone crave for the smooth and fudgy chocolate  cake.  Have you ever wondered how a simplest and a hot selling cake is made.  Well, you don't need to ponder on it much now. This blog is all about the decadent chocolate cake and its decor.
Let's get down to the business now. Everyone loves chocolate, but how to describe your chocolate taste experience? How to find words for a proper chocolate taste description? How to do justice to the complexity and richness of chocolate when talking about taste?
Chocolate is a gift from nature and a multisensorial product. It appeals to all five senses [Sight, Touch, Hearing, Smell, Taste] thanks to its attributes: color, snap, mouthfeel and complexity of flavors and aromas.
People all around the globe love it. It's one of the favorite – if not THE favorite – sweet product around. During Covid time, consumers looked for comforting products and little indulgences, and 27% of global consumers say they have been eating more chocolate in the last year.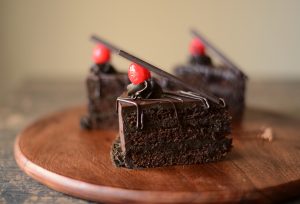 Taking the same sensational chocolate, we at Dee's Bake Studio frost our chocolate cake with it. Two most important factors to consider in a cake is its freshness and taste. If the cake is freshly made then the texture of it will automatically increase a thousandfold. And how to see if your cake is fresh or not? well, its quite simple. Just review the moistness of the cake. A freshly baked sponge soaked with the right amount of sugar syrup will give you the maximum softness in a cake possible. For the taste, just use the best quality of ingredients. I am sure you can find "N" number of chocolate brands promising best taste and mouthfeel. But unfortunately that's not the case. It's best to do some market research and experiments before you decide to stick to one brand.
It's not a rocket science to make a chocolate ganache. But a simple mistake can also ruin your end results. For the chocolate truffle cake cream we usually use Amul cream which is easily available in the market and has a high fat content which gives a good texture and smoothness to the cream.
To make the truffle cream use 1000g dark chocolate  and 600g cream. You can always scale down the recipe as per your requirement. There are recipes which advise for half cream and half chocolate. But I find this ratio to give a hard truffle cream. While applying a hard set truffle cream, sometimes your sponge can also get damaged while covering the cake with it. You can always microwave it a few seconds but the coolness of your sponge or sugar syrup can make the cream hard when you are still applying it or working on the cake. So thats why we recommend  a ratio of 60:40. You can always add some whipped cream to a set ganache for making it more light and soft.
The weather should also be kept in mind while working with any chocolate product. Here in Delhi, its quite hot in the summers, so its best to store your truffle cream in fridge and just keep it outside 1-2 hours before you start frosting and layering your cake. In winters, you can keep your ganache overnight outside in the room temperature and may be microwave it for 20-30 secs to make it soft and easy to apply it on the cake. After layering the cake make sure to always keep it in the fridge for 1-2 hours then frost it from top. For the decoration you can use red cherries, strawberries , sprinkles, chocolate decoration, almonds or any other roasted nuts.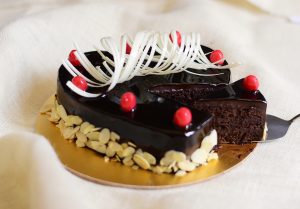 So, there you have it! A tried and tested chocolate truffle cream recipe for your next home made chocolate cake. Make sure to tag us on instagram at https://www.instagram.com/deesbakestudio/?hl=en
or tag us on facebook at https://www.facebook.com/deesbakestudio/
And if you feel like treating yourself then just sit back, relax and enjoy the heavenly bite of warm chocolate cake bought from Dee's bake Studio. You can visit the given link to order the cake — https://deesbakestudio.com/chocolate/
Home deliveries are available in Delhi, Noida, Ghaziabad. For any issue, you can always reach us at 8860 123 103 / 8956 001 001.
Happy Baking!
You can always google the following to reach us
Fondant cake near me
Designer cake near me
Chocolate cake
Best quality cake near me
Buy cake online
Cake delivery
Cake delivery in Delhi, Noida, Ghaziabad